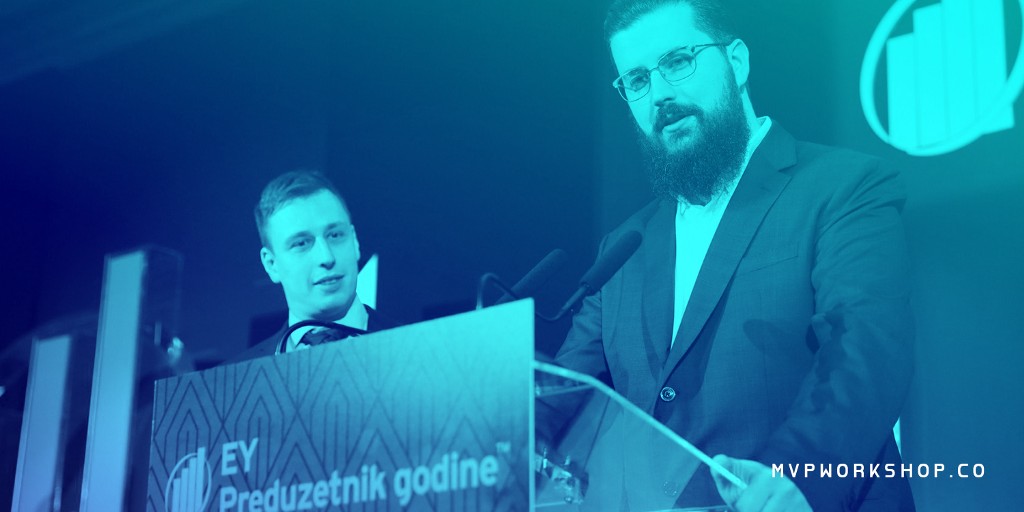 MVP Workshop's CEO Ivan Bjelajac and CTO Malisa Pusonja have been named 2018 EY Innovative Entrepreneurs Of The Year!
EOY is an award sponsored by Ernst & Young in recognition of entrepreneurship, and MVP Workshop is proud to be among the country's most impressive entrepreneurs.
The honor distinguishes MVP Workshop — a Blockchain R&D company that has achieved remarkable business success and made an innovative and significant impact in the Serbian entrepreneurial community.
Ivan Bjelajac said:
"We are honored to receive this recognition and accept it on behalf of our team, who made this possible. This represents a very significant award for all of us who are working on the implementation of innovative solutions across different industries."
This was the 7th time in a row that the competition has been held for in Serbia when business leaders gathered at awards gala in Hyatt Regency Belgrade last week to celebrate the achievements of the 27 finalists. Apart from the EY Entrepreneur Of The Year, two additional awards have been awarded at the annual ceremony: Innovative Entrepreneur Of The Year and Fastest-Growing Entrepreneur Of The Year.
EOY is a part of a prestigious awards global program that aims to celebrate excellent examples of entrepreneurial drive and empower entrepreneurs to grow their businesses.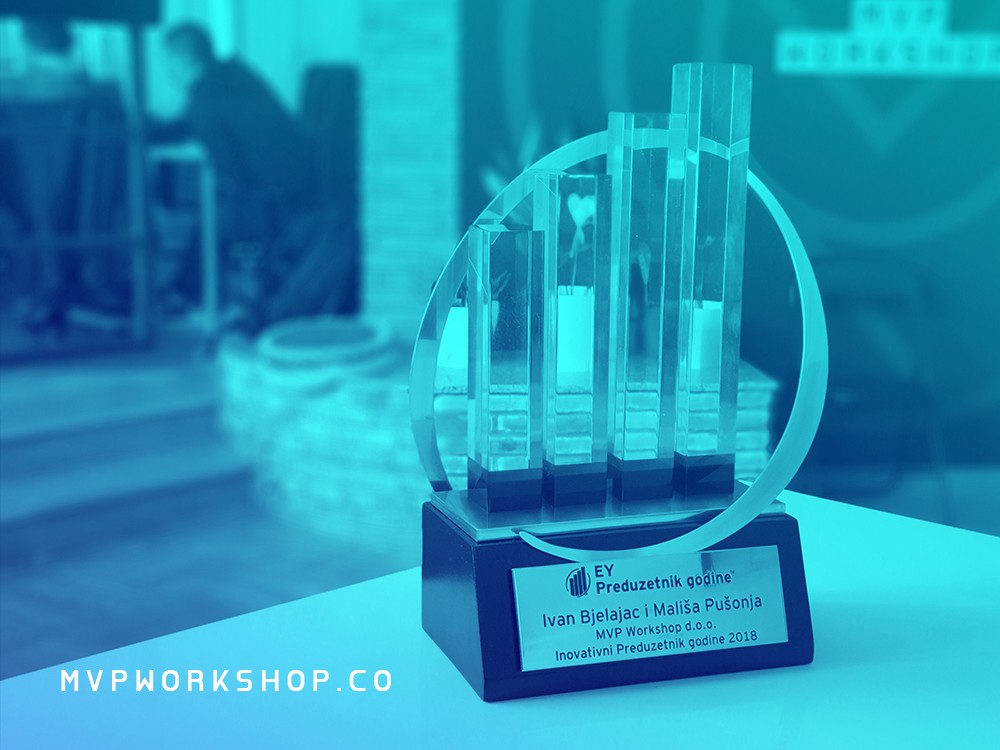 By organizing this competition, EY aims to be a part of the affirmation of the best Serbian entrepreneurs and to offer them a chance to stand side by side with the world's best entrepreneurs. It passionately believes in recognizing the value of entrepreneurial spirit and promoting entrepreneurship across Serbia.
But this program is so much more than the prestigious awards; being organized in more than 50 countries and 145 cities around the world, it aims to celebrate, support and connect entrepreneurs and innovators who push limits in order to revolutionize an existing industry.
This year's finalists came from a variety of sectors and collectively, these companies employ over 2,000 people, generating revenues exceeding 200 million EUR in the last year.
When we co-founded MVP Workshop in 2017, our main focus was to lead the team that can work on research and development of the Blockchain products and be involved in implementing Blockchain technology across different industries. We are pleased that our work in the fundamental innovation has been recognized by EY and the community it gathers.
Malisa Pusonja, Co-Founder and CTO of MVP Workshop
MVP Workshop's main focus is research and development of the new technologies and new ways to improve existing business processes. The company operates on a dynamic market but has reached the level where it is able to develop its own products, and its main goal is to bring technology closer to the people and make it more humane.
Follow us and subscribe for more company updates, and feel free to join the conversation on Twitter and LinkedIn. For free business consultation about how blockchain can impact and change your business model, or anything else related to the technology — get in touch with us.
---
EY Honors MVP Workshop with 2018 EY Innovative Entrepreneur Of The Year Award was originally published in MVP Workshop on Medium, where people are continuing the conversation by highlighting and responding to this story.