Have you ever heard about digital nomad family?
Digital nomadism is well-known as working freely outside the office, especially for people, who are into non-stopped traveling. This is a new way to liberate yourself from the original workspace in order to discover new nature, environment, culture, and people. You are the person who set your traveling schedule up, flexible with your job. However, you still earn money in the meantime, which significantly make this "working and traveling style" to stand out.
Undoubtedly, the number of digital nomad entrepreneurs are growing up rapidly. Even though working as freelancers for few companies are quite affordable, several nomads take on a new challenge to build up their business. This is also a chance for travelers to liberate themselves into new innovative ideas, keep learning while working and even make new co-workers on their trip.
Digital Nomad entrepreneurs are mostly solo male, female or couple travelers. Therefore, digital nomad families are rarely to be mentioned. How many families are brave enough to get their kids on a boat floating around the World while managing their business at the same time? Here are top 5 digital nomad family that you should follow.
Pearce's family is one of the greatest digital nomad family. Brandon and Jennifer used to live in suburban America in 2009. After a "wake-up call" because Jennifer's mother passed away from cancer, they realized a short-life of human-being. They started with a trip from Costa-Rica to fulfill their life to the highest level of meaning. This great family has visited over 32 countries for the last 7 years.
Brandon is working on his online business called Music teacher's help, a software that helps music teacher manage their business; running World schooling project; writing a book about how to educate children while traveling. Moreover, he is also a founder of Family adventure summit, a family travel conference which aims to connect, inspire and support families on their way to learn this traveling style. Besides, Jen is her husband's right-hand strongly supporting to Brandon's business. She is an intuitive person who values different beauties between each human being. Their daughter, Emily, has received the talented gene from her parents. She is into songwriting, singing, playing guitar and so on. Emily is now working on finishing her first album.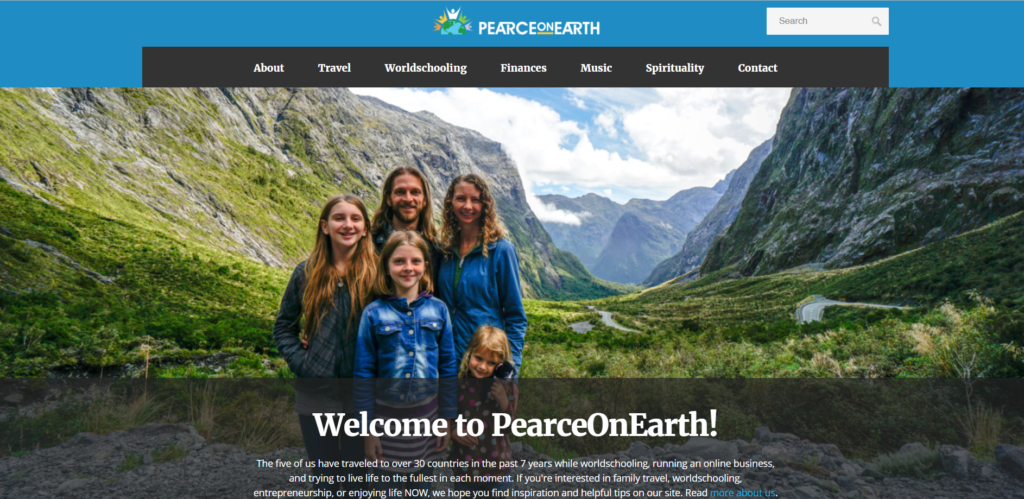 Jump into this amazing family journey at https://pearceonearth.com/
Nomad Together is an American family of 6 who decided to leave the United States in 2014 by selling their house and most of their possessions. Paul and Becky Kortman have moved around from Southeast Asia to Africa and Europe since they were a couple and after having 4 kids. Becky writes lots of blogs and homeschool about her kids. Paul is an entrepreneur who is running multiple location businesses. Back in the time in 2013, this couple found hard to research and plan for their digital nomad trip with kids. Therefore, after their inaugural trip, they came up with a "family freedom guidebook" which has sold widely on their website, Amazon and another e-commerce platform. In order to bring this lifestyle closer to other families all over the World, they are now podcasting via Nomadtogether. Listen to their postcard and get inspiration for your family trip!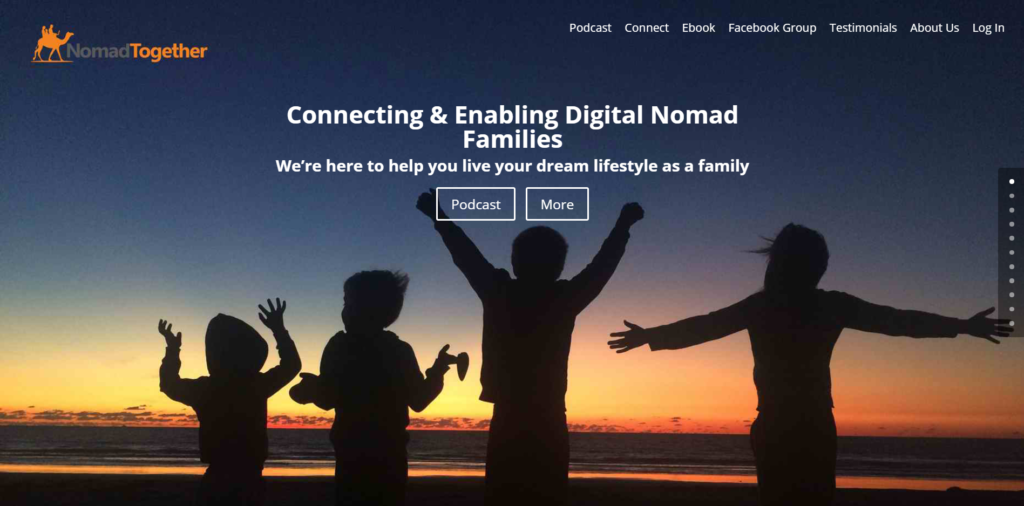 Visit their website at https://nomadtogether.com/
How to travel smarter, cheaper and better with kids? Ask Where's Sharon.
This adorable Australian family did visit over 90 countries, an unbelievable number. Sharon has started her blog since 2005 and continued after marriage and having 3 kids. Her website with hundreds of helpful articles and travel tips becoming popular for avid traveling families. Sharon is professional in IT and online business. She has a long-term traveling and working online. Therefore, she desires to turn her passions into her own business. Sharon established Digital Nomad Wannabe, an educational platform for making money from blogging and niche sites.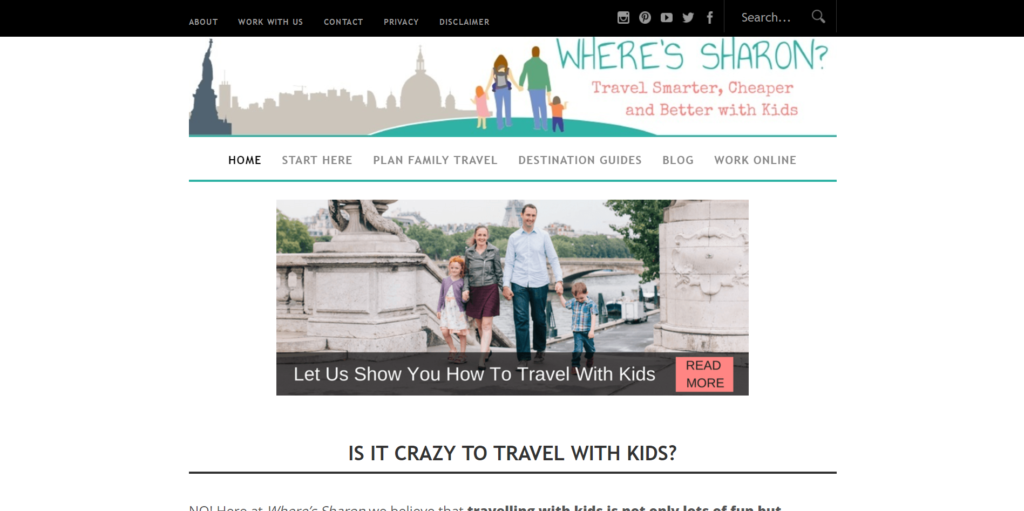 Find guide book and genuine courses in her website at http://www.wheressharon.com/
Unlike other families traveling with kids, this unique family is growing up their nomad business by Mike (Dad) with his two daughters and two sons. Digital marketing secured their financial difficulties several years ago. They believe this industry is an effective way to help travelers making passive income while traveling. Mike is a marketing expert with thick knowledge and bunch of experiences. Lara, one of his daughter, is a founder of Hudson Portfolios, which helps models create the most beautiful images for their portfolio across the United Kingdom. Other members of the family are supporting their family's nomad business and enjoying their digital nomad lifestyle as much as possible.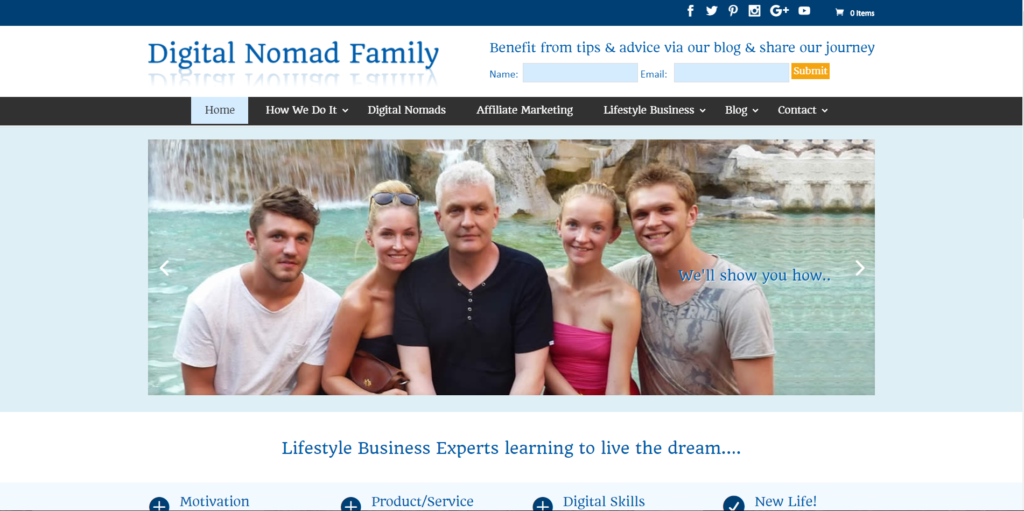 Visit their website at https://www.digitalnomad-family.com/
This incredible Dutch family left their home country five years ago, spent 1 year oversea with their 2 little kids and ended up in beautiful Bali with their Villa Bloom business. Inge and Tom were planning a trip with a simple mindset to change their family lifestyle, live freely and happily. After landing to Bali and impressing by this gorgeous island, they desired to live there and build up their sustainable business.
Inge has a passion on yoga, healthy food and family, therefore, she combines her lifestyle as a value added in their Villa Bloom and her online business. Tom is working his own business from home and traveling across Asian. They are fully supporting each other and enjoying the best journey of their life now. Besides, Tom and Igne wrote "Redefining Family Life with the Freedom-Preneur Formula" book that provided freely on their website. This is one of the best-inspired gifts that they want to share to all of the nomad families on Earth.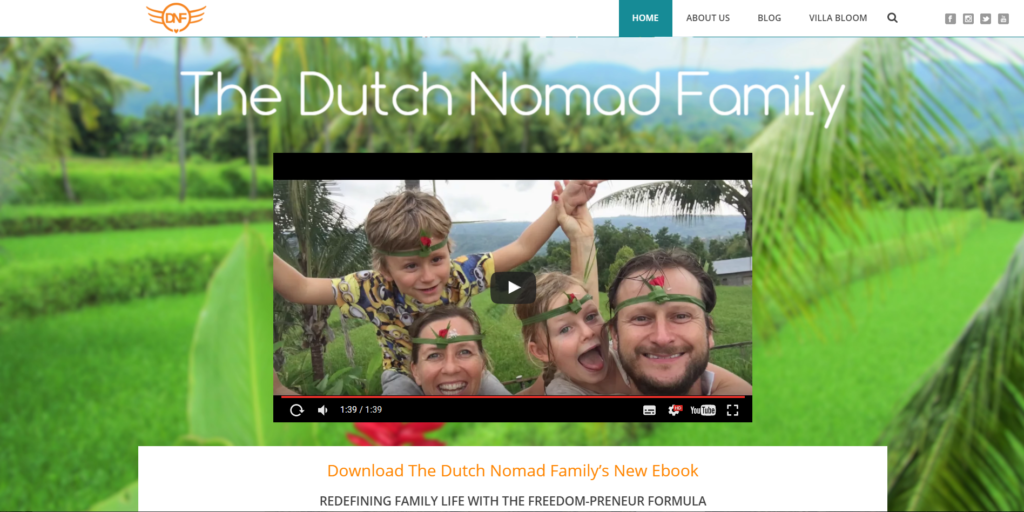 Reach it out at their website http://dutchnomadfamily.com/
Conclusion
Are those families inspiring you? Do you want to change your family's lifestyle as a digital nomad family?
Do you have a business idea for a startup and want to validate it before getting on a journey as a nomad with your family?  MVP Workshop can help you turn your ideas into your real business.