Mobile app, dashboard and website for

Social fundraising and digital aid distribution technology for humanitarian aid and development programs.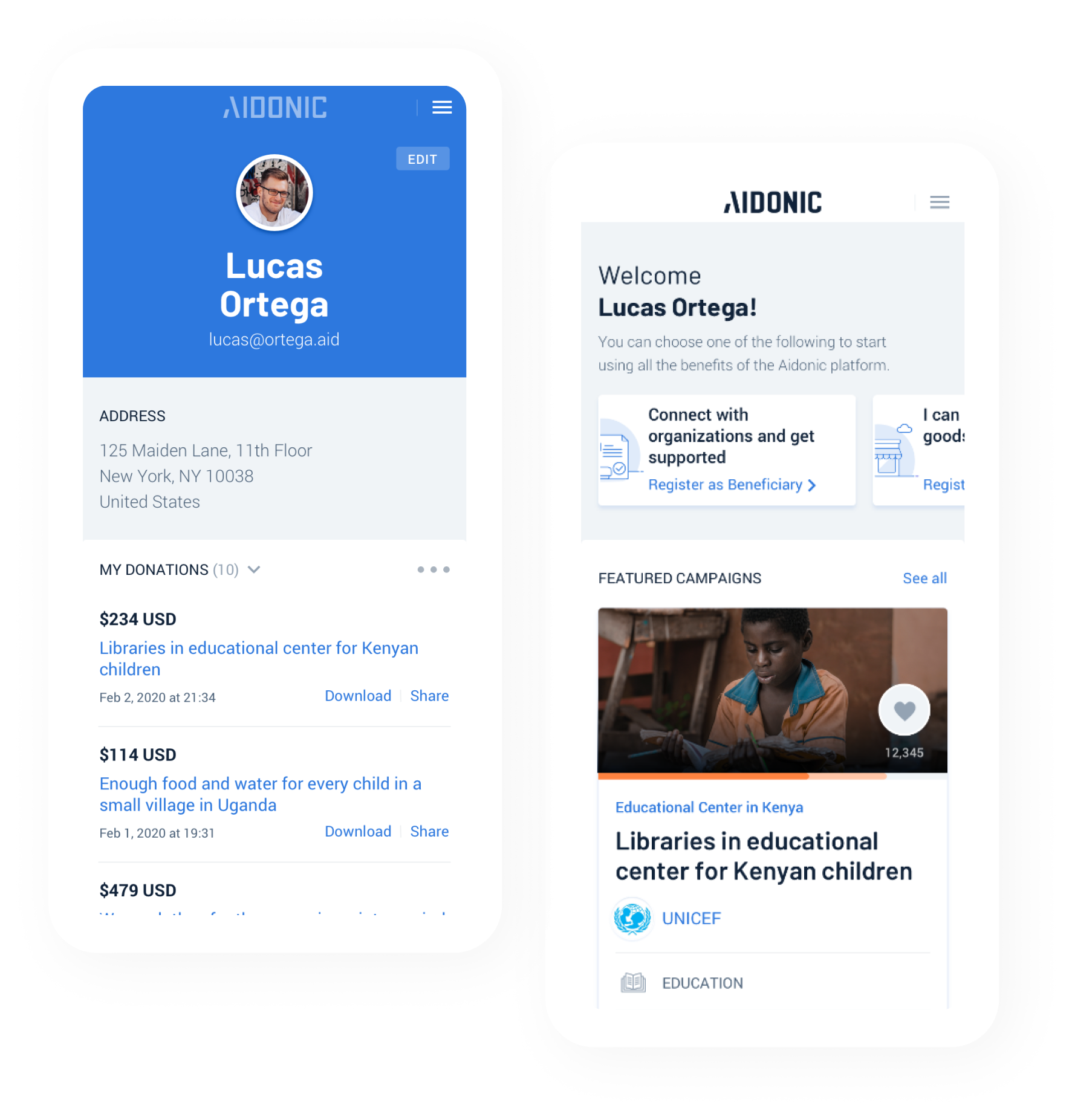 NGOs, Charities, and Governments can distribute tokenized aid vouchers, entitlements, or digital cash straight to the intended end-beneficiaries in the most transparent and efficient way.
The home page presents an overview of campaigns, organizations, ambassadors, and other ecosystem participants.
Once registered, the user is provided with a personal profile page including a list of his donations and options to register as any other ecosystem participant: Beneficiary, Service Provider, Verified Organization, Ambassador, and Implementing Organization.
01 Verified organization page
Organizations verified by the AIDONIC representatives are the only ones who can create a campaign and raise funds for the people in need - beneficiaries.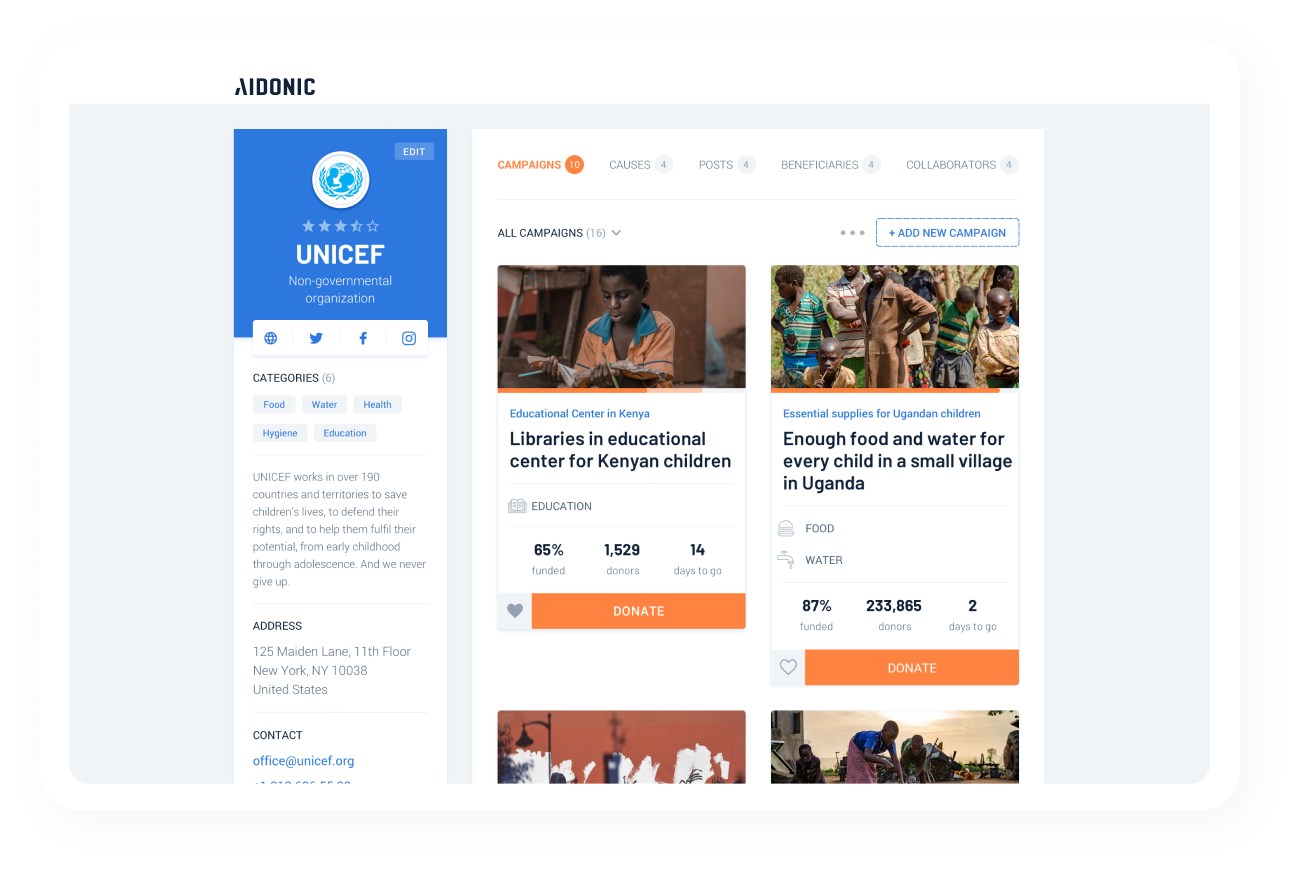 Service Provider page
Products and services are purchased from the service providers in exchange for tokes. Transactions and token balances of each Service Provider are transparent and presented on their pages.
Beneficiary page
The aim of the AIODNIC platform is to ensure transparent aid distribution to the ones who can benefit the most from it. Those are the individuals or families who use the received tokens (vouchers) to purchase products and services.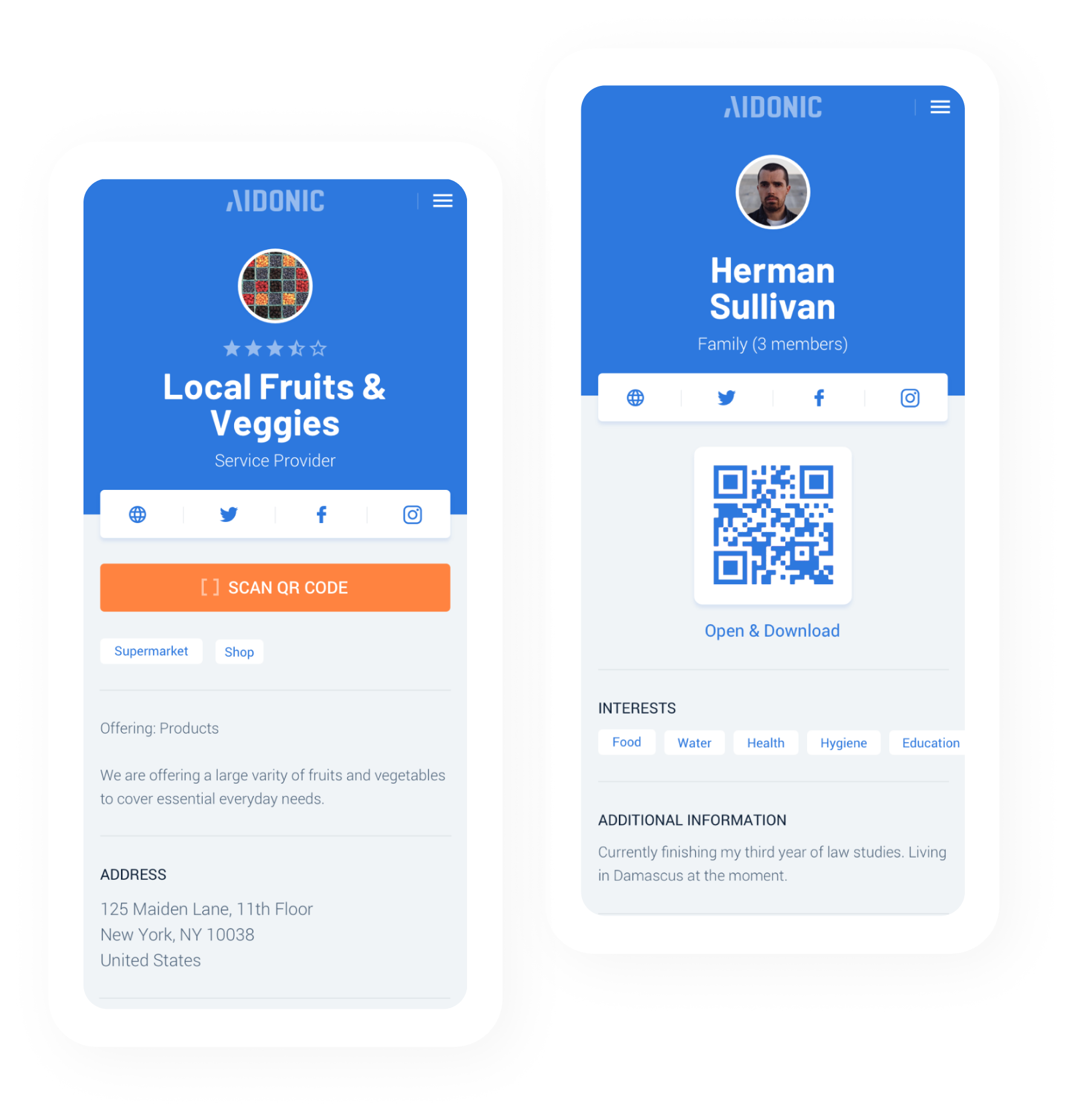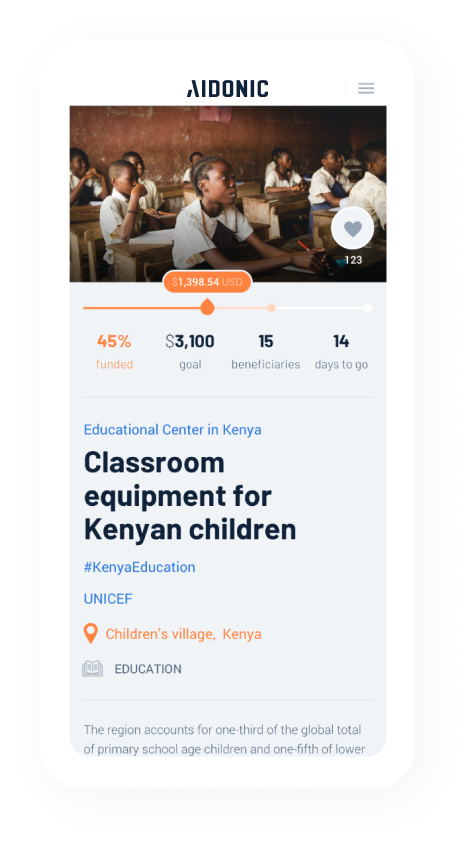 Campaign
The campaign represents a crucial part of the AIDONIC platform where users are informed about the specific details, beneficiaries that need help, and products and services that will be provided to them.
Once sufficient funds are raised, an equal amount of tokens is created and distributed to the beneficiaries, they are purchasing products and services from the service providers, and in return forwarding the tokens. This part of the campaign is called the Redemption phase.
Once the Redemption phase is finished, organizations are able to payout service providers and notify other users and donors that collected funds ended at the right place.
Campaign Form
To launch the campaign, organizations are required to provide more details and set up parameters such as minimum and maximum goals, fees, fundraising dates, base currency, etc.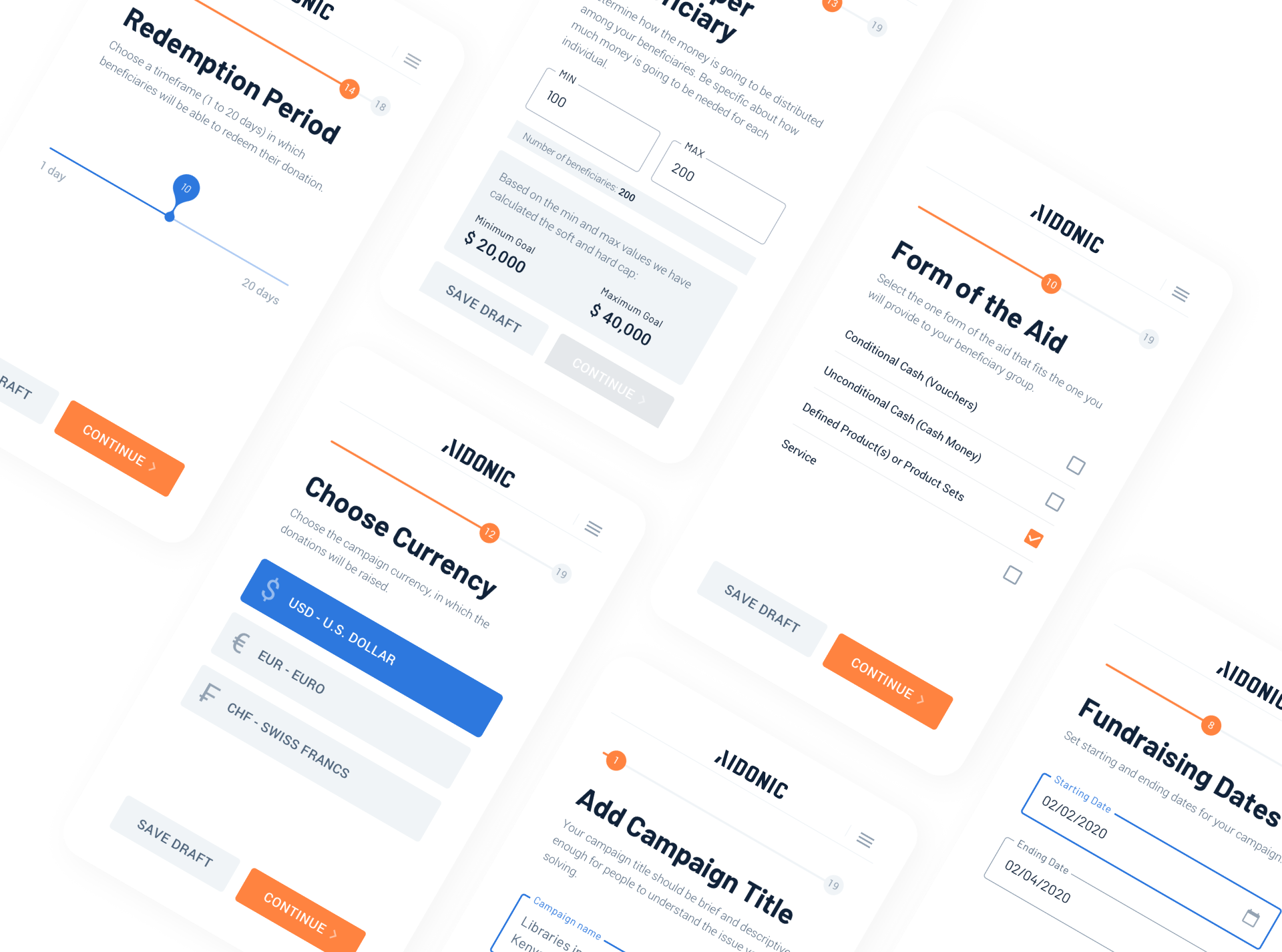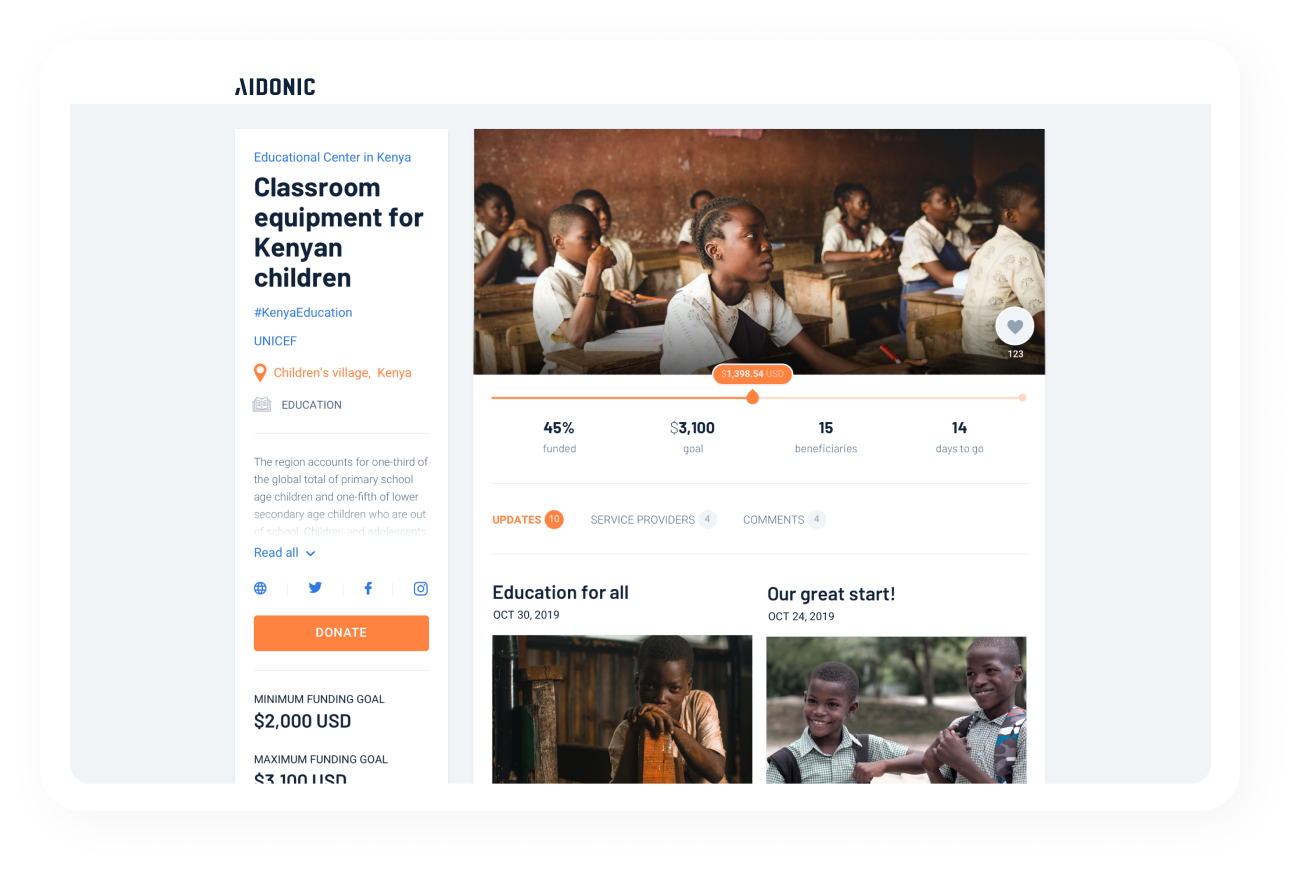 02 Cause
To raise awareness about a specific topic, organizations can create a cause. When there is enough public support, mutual campaigns can be created for that cause.