I had the opportunity to visit the Ethereum Community Conference in Paris, France, happening from the 19th to the 21st of July. EthCC is one of the world's largest, most visited Ethereum conferences, counting over 14 different tracks, including DeFi, Security, Gaming, Protocol Development, Governance, Ethereum Layers, and many more. It hosts 1200+ attendees, 200+ speakers, and 3 days of great content annually. Along EthCC come many side events, hackathons, meetups, crypto coffees & beers, and parties. This is why the actual EthCC Experience lasts for about a week (18th – 24th of July). Here is how I experienced it ⤵️
Monday, 18th of July:
Polygon Connect
As a pregame to EthCC, Polygon organized a single-day event with talks, workshops, demos, and networking. Here, you could listen to and meet with some of the most prominent people from Polygon's ecosystem. For me, this was definitely Jordi Baylina – Tech Lead at Iden3 and Polygon Hermez, and the inventor of the Circom, a programming language used to write zk-SNARKS.
I met him without even realizing it – we shared an elevator ride 😅 Fortunately, I had the chance to speak to him later.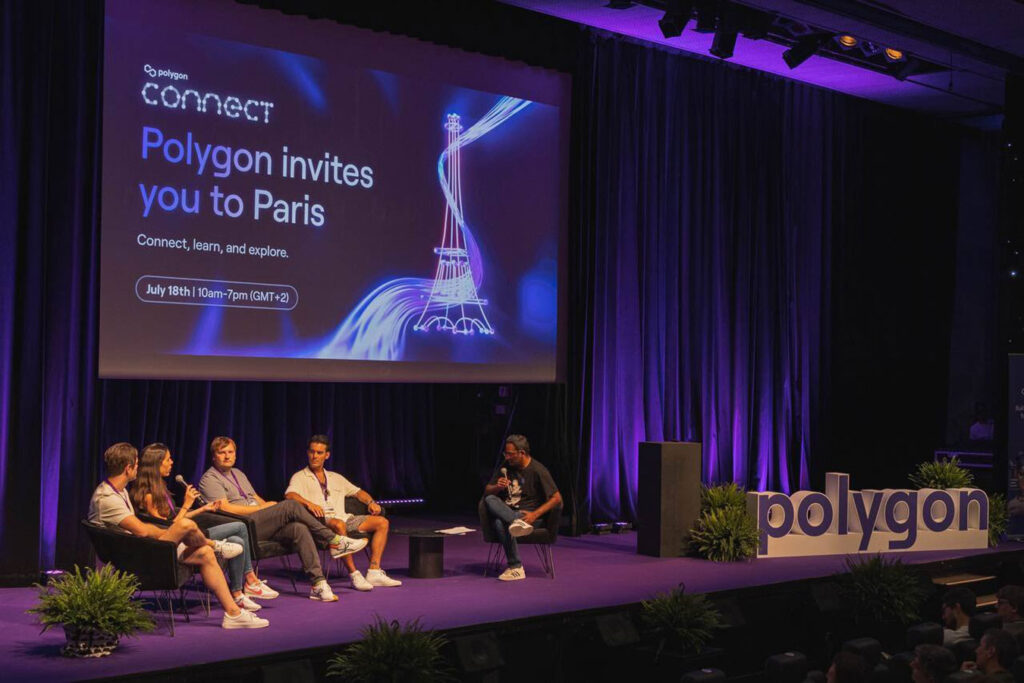 Encode Club & StarkNet co-organized a 2-day hackathon on the 18th of July. While I couldn't attend the hackathon, I did manage to get tickets to the afterparty 😎
The StarkCon Mixer had us drinking champagne at the top of Montparnasse Tower, a 210-meter tall skyscraper in the middle of Paris. Imagine the views 😍
Actually, you don't have to ⤵️
Tuesday, 19th of July – the first day of EthCC:
EthCC was happening at Maison de la Mutualité, a conference venue close to Notre Dame. The conference was spread out over four different floors and six stages. After the opening ceremony, the agenda kicked off with talks given by various big players of the web3 industry – OpenZeppelin, Aave, MakerDAO, Infura, and Polygon, to name a few.
You could listen to fourteen tracks/topics – if you had managed to snatch a ticket for the conference, that is. Luckily, I'm a 3rd-year CS student, and students get free entry 🤓
Day 1 talks:
Hadrien Croubois took us through OpenZeppelin's roadmap, bug bounty program, and future vision. OpenZeppelin was officially audited more than 150 times 🤯
The thing that caught my eye is OpenZeppelin's Contracts Wizard, which is used to build smart contracts interactively. It is enabled for Solidity as well as Cairo. Great stuff if you're just getting into Solidity or Cairo.
Jesus Ligero walked us through the process of bridging assets through the zkEVM Bridge. From merkelizing data and using the zk circuits to prove state changes via "global exit roots" on both VMs, this talk was filled with technicalities only experts working on ZK tech could fully grasp. It's enough to say I only understood some bits of Jesus' speech.
Party: Daivinity (MakerDAO)
MakerDAO had their party at a very peculiar place – just under the Alexander III Bridge, considered one of the most elegant bridges to cross the Seine. The DJs rocked 🤟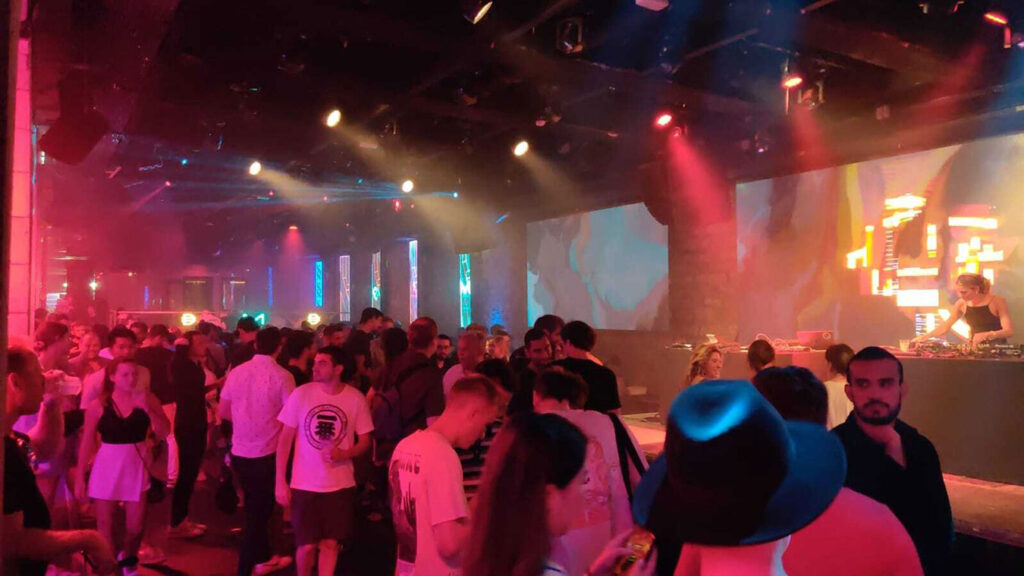 Wednesday, 20th of July – the second day of EthCC:
Day 2 talks:
Bartłomiej took us through the basics of the Waffle SC testing framework. I expected this talk to introduce some new things, as I already have some experience with Waffle. This wasn't the case – the talk covered Waffle basics. It is a good overview of the framework, however.
Jordi announced that the zkEVM code has finally been open-sourced! This talk also stirred up other companies to talk about their ZK achievements. Hermez going open-source was one of the most significant announcements of EthCC.
Party: Cirque du 1pouce – 1inch's Circus
1inch had one of the best party venues for the whole week. The Fairground Museum, located in the southeast corner of Paris, is a private circus-like museum with real attractions you could attend, such as target shooting games, Japanese billiards, tarot card readers, merry-go-rounds, and much more. Baristas making some great caipirinhas, quality burritos, and gelato accompanied by good music.
I've got to say: merry-go-rounds after a couple of caipirinhas are pretty merry! 😆
Thursday, 21st of July – the final day of EthCC:
EthCC final day talks:
It's interesting to see a web2 company like Cloudflare giving a talk on EthCC. This talk can be used as a quick overview of how the current web2 content serving system works and how IPFS works contrary to that. Thibault also talked about the benefits of deploying your content on IPFS and what are some ways to do so while still making the content accessible via currently widespread web2 technologies.
This talk is a good overview of the currently available dev tooling in the web3 dev industry. Đorđe talked about his career path and how he ended up in the Solidity Core Dev team and continued his way to Tempus Finance. He also spoke about tooling in the web3 dev scene and what current tooling solutions provide to the developer community. The state of web3 dev tooling has advanced far, but we've still got room to improve.
Fun fact: if you ever have suggestions for how the Solidity language should improve, you can present your ideas during Solidity Core Dev calls every Wednesday. 
The only thing I wish was different at EthCC was the format of the talks – all of them were 15-20 minutes long. Just enough time to scratch the surface of a topic and leave you with a bunch of questions, but not enough time to dive deep into anything more detailed. For me, Vitalik's talk was the only talk that felt somehow solid and went into enough details.
He talked about the future of Ethereum and the role Ethereum has and will have in the web3 ecosystem. He also spoke about the layer separation vision – an L1, such as Ethereum, will serve as a foundation layer that is secure, predictable, and dependable while leaving fast iteration, high scalability, innovation, and action for L2s.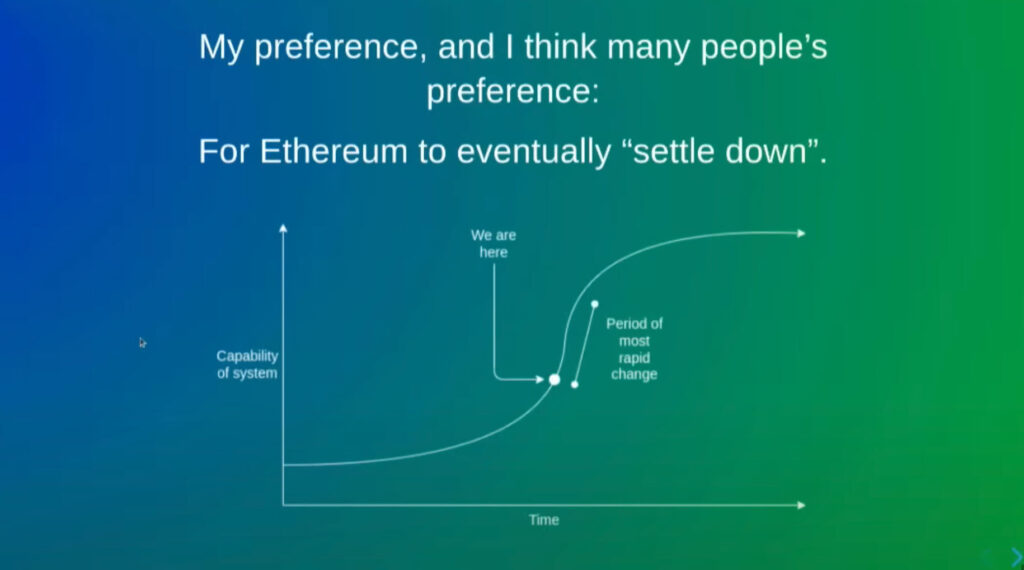 Ethereum after the Merge will be about 55% complete.

Vitalik Buterin
After the period of rapid change (following the Merge), the long-term goal for Ethereum is to focus on decentralization and simplicity – this means creating infrastructure in order to build light clients with which anyone can easily access the network without having to use Metamask, which in turn relies on a centralized RPC provider like Infura. zkSNARKs seem to be one of the ways to enable this, but as Vitalik said, "they're still a bit too black box-y".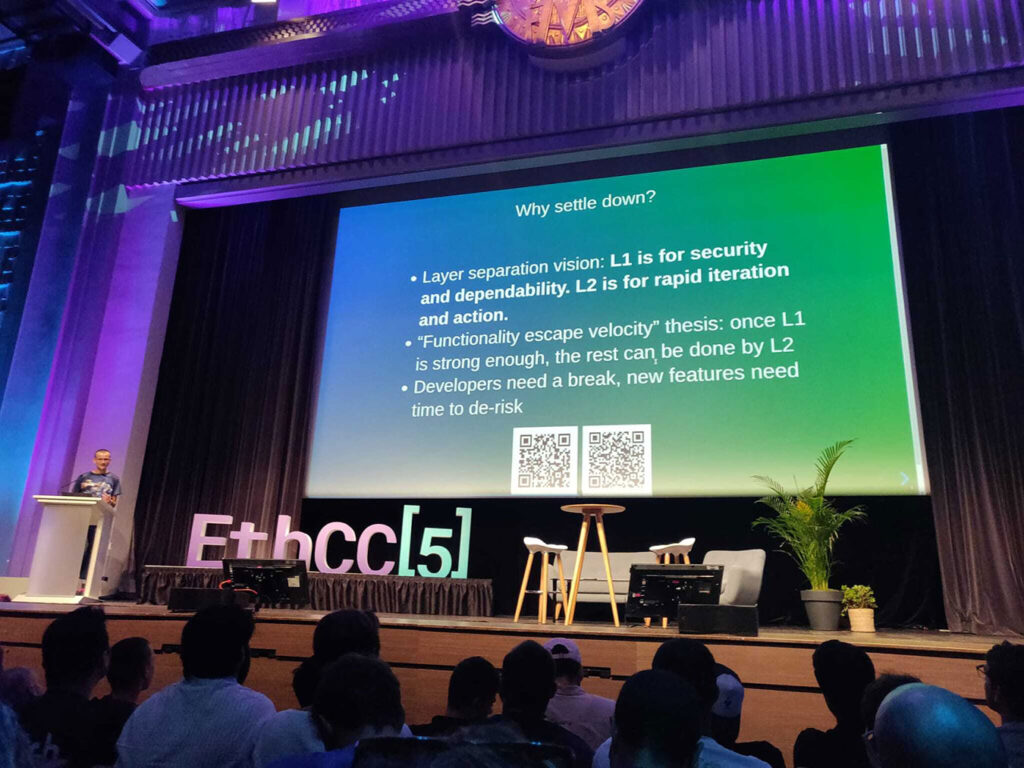 Vitalik's talk was a good closing talk for the end of the conference, rounding up the past 3 days with long-term goals for, arguably, the foundation of the web3 industry.
Parties and side events on Thursday:
Railgun's private champagne lounge
As the name suggests, Railgun offered a beautiful restaurant with champagne, snacks, and most importantly, many camemberts, le bleu, and brie. There was live music as well 🎻
Aave's rAave
The most hyped-up party of the week probably happened at Élysée Montmartre, a 19th-century concert hall. Getting a ticket for rAave was challenging – ticket codes for a handful of people at a time were popping up in different places. Some codes were posted on rAave's Twitter, some during Stani's talk on the final day of EthCC.
Supposedly, the first attendees were to get exclusive rAave merch – and the party started at 9 PM. Never before did I see so many people raving at 9 PM 😆
They served Asahi beer and cocktails, and Aave's mascot, Ronnie, ensured the party was going great. We were there from 9 PM till 4 AM 👻
Friday, 22nd of July – StarkNetCC
StarkWare is the leader in developing zero-knowledge STARK proofs and is taking the initiative for Ethereum Scaling. StarkNet is a STARK-powered Layer-2 ZK-Rollup that supports general computation over Ethereum. It is based on the Turing-complete Cairo language.
Đorđe Mijović from Tempus Finance was kind enough to invite me to the 1-day conference. Tempus is experimenting with Cairo and building a lending/borrowing protocol on StarkNet 👀
I haven't had the opportunity to research STARKs and Cairo. This is why I enjoyed attending StarkNetCC – it gave me various insights related to a topic I know almost nothing about. While small compared to EthCC, StarkNetCC had tech talks, workshops, and panels. I found the tech talks to be most interesting – here is the agenda for the conference.
Cairo and its documentation are definitely a work in progress. However, I believe that Cairo is currently in the stage Solidity was in 2016 – learning it isn't easy but will set you apart as a developer a year or two down the road. The general vibe at the conference ⤵️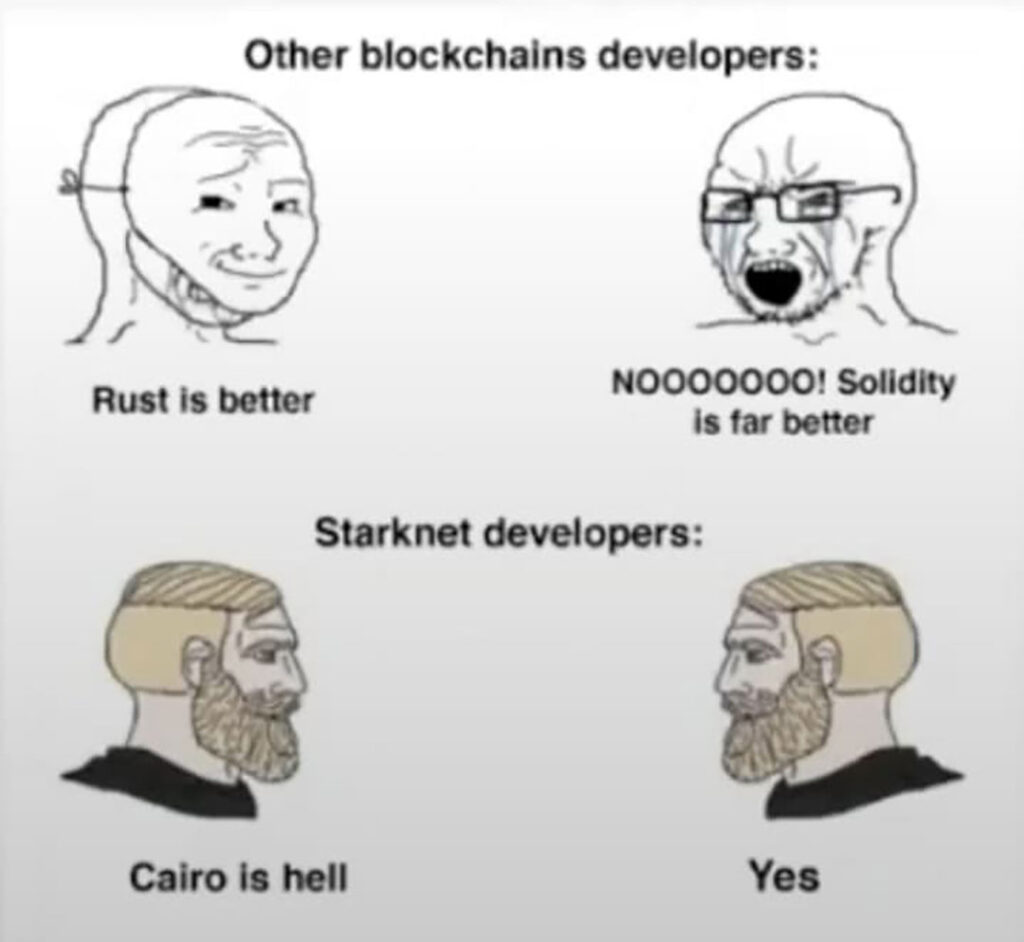 Parties & side events during EthCC Week
EthCC had over 40 side events and parties during the week (18th – 24th of July). So much so there's a dedicated website for them.
Most if not all of the side events are free. That being said, you still have to grab your (free) ticket. Be up to date and follow relevant people on Twitter and Telegram to get alpha for parties and events.
Even if you didn't manage to snatch a ticket for a party, side event, or even the main conference, I could almost guarantee that there is a different blockchain-related event happening at the same time.
Here are a few that occurred during the week: as mentioned above, Polygon Connect & StarkCon, as well as NEAR & Ledger's Boat meetups/parties, Consensys' networking & workshop event, StarkNetCC, EthCC's official hackathon, breakfasts, crypto coffees/beers, discussions, and much more.
There even was a party at the Eiffel Tower, or so I've heard 🤯
Final thoughts
EthCC was definitely a one-of-a-kind experience. Meeting so many new people and hearing things from vastly different spectrums of the web3 industry, all in one place.
Here are some numbers to round off this blog:
Met 100+ people
Talks listened to: 14
Parties attended: 7
Side events attended: 6
That's all, folks! Hope to see you at the EthCC 6!