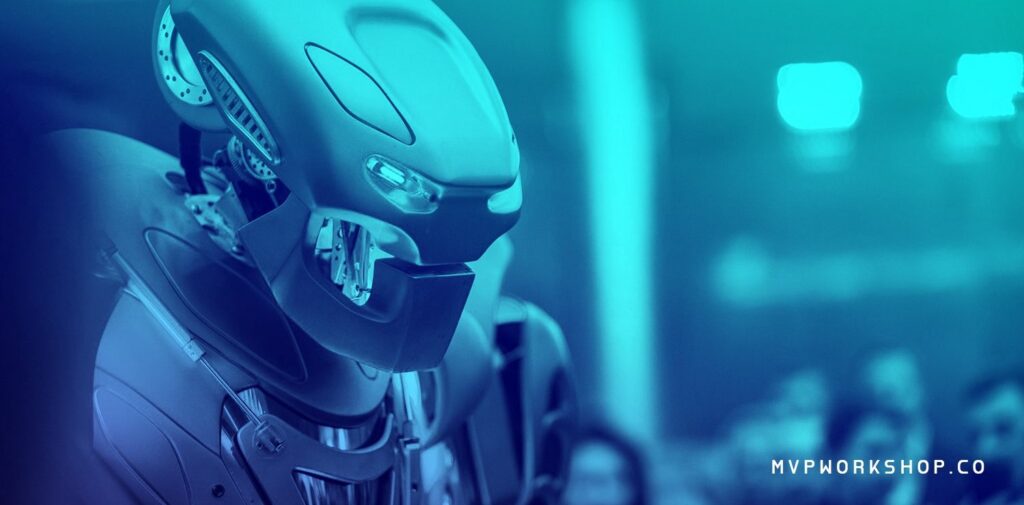 The second Western Balkans Digital Summit (#DSWB) took place on April 4–5 in Belgrade, at the Palace of Serbia. Among 3000 attendees in the summit were various organizations, business representatives, CSOs, and government representatives. Some of the keynote speakers included Indy Johar, Marta Novakova, John Newbigin Obe, Jovan Kurbalija, and others.
One of the special guests was Sophia the Robot — a cutting-edge android with human-like facial features and expressions — created by Hanson Robotics.
Ana Brnabic, Prime Minister of Serbia, opened the event with an announcement about a free roaming service in the region that aims to bring the communication in the Balkans closer together.
After the opening speeches, the discussions separated into two breakout sessions that took place at the Digital Stage and at the Summit Stage.
The Blockchain Panel
The MVP Workshop team had the honor to take part in the blockchain discussion panel that took place on April 4, starting at 10 AM. The idea was that the panel should take no more than 45 minutes, but the participants engaged in interesting discussions, thus prolonging it to over an hour.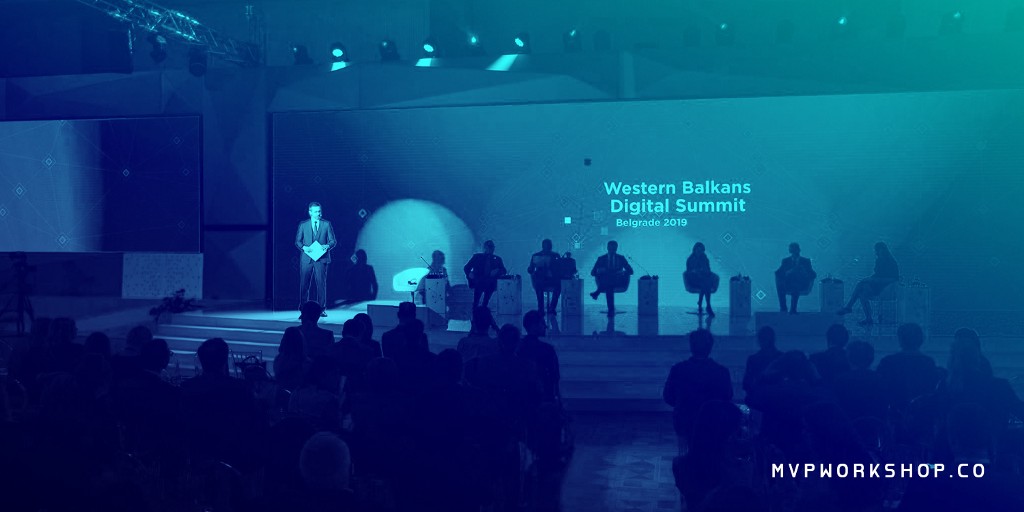 Our CEO Mr. Ivan Bjelajac had an opportunity to open and moderate the session. After introducing the panel, Ivan pointed out the potential of blockchain technology by explaining the disruptive power of a distributed data ledger. He then gave the floor to other presenters who were eager to share their knowledge with the audience.
Mr. Greg Medcraft, Director of the Directorate for Financial and Enterprise Affairs at OECD — OCDE, stated that OECD's principles were in line with the benefits that blockchain technology provides. Furthermore, he discussed the OECD's work, pointing out their efforts to help governments set standards around the industry. Last year, OECD and Mr. Medcraft hosted a blockchain panel featuring Prime Ministers from countries that are on the forefront of establishing blockchain legislation, with Serbian PM being one of the participants as well.
Sharing his blockchain-related experience gained in his home country of Slovenia, former State Secretary of Slovenia and current Director at Tolar HashNET Slovenia, Mr. Tadej Slapnik, stated that Slovenia had the potential to become Europe's blockchain hub. This statement was derived from the fact that Slovenia is the country with most crypto start-ups per capita in the world.
One of the speakers was also Mr. Vladimir Trajkovik, University Professor from North Macedonia and Co-Founder of Seavus. He pointed out that blockchain was useful whenever there was a lack of trust, including governmental services.
"Blockchain is technology that is useful whenever there is lack of trust. This, among all other services, includes governmental services. We still have to work on interoperability of different standards, interoperability of regulations in different countries, and how they should respond when we combine blockchain with other technologies as AI or edge in the near future." —Mr. Vladimir Trajkovik
The audience also had the opportunity to listen about Malta's newest regulations of digital assets that were introduced in 2018. Mr. Jonathan Galea, one of the authors of these regulations who was recently hired as a blockchain strategy advisor for the Serbian government, and Malta's Managing Director of the Blockchain Advisory, discussed how these new regulations managed to affect existing regulations related to financial security. Furthermore, Mr. Galea stated that Malta's Digital Innovation Act had created a standard for everything that is created on the blockchain.
Ms. Loretta Joseph, Fintech and Regulatory Advisor at FSC Mauritius, discussed the importance of collaboration between the regulators and the industry.

"Collaboration is the key. Our panel was an example of how policymakers, regulators, industry, academia and governments can come together as one and embrace emerging technologies, enabling positive social and economic transformation." — Ms. Loretta Joseph
One of the participants in the panel was Ms. Bojana Tomic Brkusanin, Head of the International Relations and Development Departments at the Securities Commission of the Republic of Serbia. She confirmed that Serbia was at the forefront when it comes to the future regulations of crypto assets. Moreover, she emphasized that creating a legal framework on crypto assets would both enhance investor protection and help develop an industry that is young, innovative, and needs legal certainty in order to move forward.
In the end, the panelists agreed that Serbia and other emerging countries could have great value from blockchain and should not sleep on it. Additionally, useful examples from other countries were shared among the discussion panel participants who also pointed out possible pitfalls and things to be avoided.
This year's Digital Summit also featured a Tech Showcase designed to empower the Western Balkans startup ecosystem. People attending had the opportunity to meet 38 of the most exciting startups from the WB6 region, featuring award-winning, innovative and disruptive startups on a mission to be the change we all want to see. Serbian Blockchain Initiative was one of the exhibitors, showcasing the work done by blockchain companies from Serbia.
Speaking of blockchain in Serbia, Jonathan Galea and Loretta Joseph will help our country upgrade its blockchain legislation together with the Serbian Blockchain Initiative (SBI) which is a non-government organization co-founded by members of MVP Workshop.
Which blockchain event do you believe is worth visiting? We are planning to be a part of more conferences like this one, so check out our website for more information.
Share your thoughts and follow @mvpworkshop to stay updated with new insights and events we are attending!
---
Looking Back at Western Balkans Digital Summit 2019 — Blockchain Panel was originally published in MVP Workshop on Medium, where people are continuing the conversation by highlighting and responding to this story.