In 2012 I have joined Devana Technologies and ManageWP as Head of Customer Experience. A year later I was promoted to Chief Operations Officer position and found myself loving the company, its the people and the product – as I have explained in my previous article.
In the article I've compared our team to San Antonio Spurs of the NBA. I guess that is manly because most of my work life (teamwork and work ethics) was influenced by my time playing competitive team basketball and multiplayer video games.
When it comes to work ethics my inspiration comes from a quote made by Kevin Garnett, who has always been one of my favorite players while growing up.
He was selected with the fifth overall pick by the Minnesota Timberwolves in the 1995 NBA Draft and became the first NBA player drafted directly out of high school in 20 years. Garnett made an immediate impact with the Minnesota Timberwolves, leading them to eight-consecutive playoff appearances. In 2004, he led the Timberwolves to the Western Conference Finals and won the NBA Most Valuable Player Award.
During his career he has been named to 15 All-Star Games, winning the All-Star MVP award in 2003, and is currently tied for third-most All-Star selections in NBA history. He was named the NBA Defensive Player of the Year in 2007–08 and has been a nine-time member of the All-NBA Teams selection and a twelve-time member of the All-Defensive Teams selection.
So I decided to let him be a thought leader when it comes to business and personal development.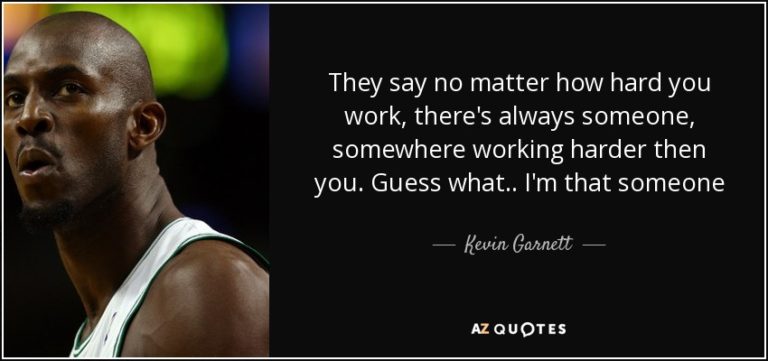 However, even though he was one of the best Power Forwards to play the game, Garnett won only one NBA title, and besides his personal dominance his Minnesota Timberwolves squads were never considered a 'respectable squad'. Take Garnett out of the team and they would never reach the Playoffs, let alone contend for the title.
This is why I chose to go with a team like San Antonio that created a culture of sustained excellence. The Spurs' five NBA championships are the fourth most in history behind only the Boston Celtics (17), Los Angeles Lakers (16), and Chicago Bulls (6). The Spurs currently rank first among active franchises for the highest winning percentage in NBA history, and are the only team in the NBA with a tied or better head-to-head regular season record against every active NBA franchise.
The Spurs are also a team that welcomes change and avoids status quo. When they started their championship run and in the early 2000's San Antonio was a defensive juggernaut and a prolific half-court "grind it out" team winning games and championships by slowing down the game.
However, after they stopped winning titles this way because their core team of Duncan, Parker and Ginobilli became older and slower, they incorporated the 3 point shot and team offense as one of the integral parts of their game which helped them win the championship again in 2013/14. This masterpiece of primarily offensive excellence by sacrificing defense for playing with a high, free flowing pace and moving the ball all the time, passing up good shots for better ones all the time was a game changer.
San Antonio lost to the Los Angeles Clippers in the Playoffs last year and lost the chance for their first Back-to-Back title, further igniting the conversation that a team lead by a 40 year old Tim Duncan cannot compete for a championship. The "they are too old" narrative is over 5 years old now – and so often mentioned that the Spurs coach Greg Popovich (who is not only famous for coaching this amazing team to all 5 of its championships, but for developing his assistant coaches into head coaches as well) even jokes about it regularly and uses it as a prank when resting players for "age related reasons".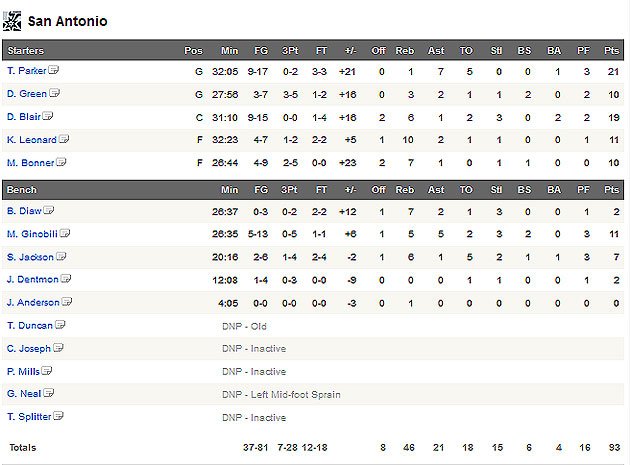 Tim Duncan – Did Not Play – Old
So they decided to change once again.
This year, with the arrival of the star free agent LaMarcus Aldridge and the MVP-caliber player Kawhi Leonard, San Antonio's dominance would seem to be linked to their well-known offensive renaissance – but they decided to cement themselves as top contenders once again by changing their defensive schemes while continuing to dominate on the offensive end.
Finding the key elements for Spurs' defensive success this season won't take too long. Tim Duncan is still flat-foot denying opponents around the basket en route to securing the top spot in ESPN.com's Defensive Real Plus/Minus rankings. Leonard is, of course, a nightmare for opposing wing scorers. But, what really separates this San Antonio defense is just how effective the team is when it comes to two relatively simple concepts: ignoring non-shooters and using denials to throw off opposing offenses.
Facing a Bucks team loaded with players less than threatening from beyond the arc like Giannis Antetokounmpo and Jabari Parker, Gregg Popovich issued orders to just brazenly abandon the non-shooters in order to shore up more vulnerable areas of the floor. Like when Boris Diaw positions himself far of Parker to help stop Michael Carter-Williams drive towards the paint…
….and when Diaw, this time guarding Giannis, sinks deep into the paint to prevent Jon Henson from rolling to the rim for an easy bucket.
Now it's easy to look at these and notice how obvious it should be for teams to ignore non-shooters in order to gum things up. After all, if a guy can't shoot, why guard him? The dirty little secret about basketball, at any level, is that this is a really easy thing to mess up. And if you're looking for more reason to heap praise on Popovich, this is it. Because not only is Pop more aggressive in basically abandoning non-shooters to an almost insulting degree, his teams rarely fail to execute his plans.
In business as well, execution is almost always more important than the idea itself.
In Devana Technologies while we do offer understanding and mentorship we let people make their own choices by using the information available to them. This is why many of us tend to say that the company policy is to believe in "common sense" when it comes to decisions. Frankly, every time I hear that word – I cringe. Because "common sense" is not the same for everyone and if there is no proper guidance (not micromanagement, but clear vision and guidance) people tend to work against each other.
The same thing is with basketball.
It's easy to think incomprehensible genius is responsible for the subtle components of an elite defense. In reality, doing the obvious thing and doing it well (which is the hard part) is often all it takes.
With that said, knowing when and how to execute a denial situation can be a huge weapon for a defense and this Spurs team does it with aplomb, as they showed in the third offensive possession of the game against the Bucks.
After Milwaukee's Parker did this….
…and this…
….to open the game, Popovich responded by having Duncan deny the wing pass to Greg Monroe. Monroe still makes the catch after hard work, but the delay in timing threw off the play and forced Milwaukee to go away from something that netted them four straight points.
These more subtle tactics combined with the core elements above have added up to the Spurs defense that has a chance to go down in history as one of the best ever. Since the 3-point was introduced to the NBA in the 1979-80 season, only three teams have posted a defensive rating below 96.0 for an entire season, per Basketball Reference.
| | | |
| --- | --- | --- |
| Team | Season | Def Rtg |
| San Antonio Spurs | 2003-04 | 94.1 |
| San Antonio Spurs | 1998-99 | 95.0 |
| San Antonio Spurs | 2015-16* | 95.1 |
| Detroit Pistons | 2003-04 | 95.4 |
The fact that this current San Antonio team is on pace to wind up on this list is impressive for so many reasons. Perhaps most importantly because they'd be the first team to be this stingy in the NBA's "D'Antoni era" — where smaller, more skilled/shooting-focused lineups designed to unlock efficient looks have become commonplace. To assemble a squad this good, in this era of the sport is quite the feat.
So why aren't more teams able to replicate the San Antonio formula? The answer is – experience and consistency.
Goran Dragic, former Phoenix Suns point guard, has his own theory about the struggles of the Phoenix Suns – currently one of the worst teams in the NBA.
"It feels like they're always changing something," Dragic told Yahoo Sports. "They're not like Miami, San Antonio, those teams that are really loyal when they find something."
Dragic was traded by the Suns last February to the Miami Heat after the team – that barely missed the playoffs by overachieving the year before – signed a third ball dominant guard in Isaiah Thomas to go with him and Eric Bledsoe. Dragic and Bledsoe never recovered their chemistry that lead Phoenix to 40+ wins and other areas of the team failed to be improved leading to an abysmal season.
"I always believe when you find some pieces that you leave those pieces [alone]. But then you upgrade the other positions. Like San Antonio is doing. They always have the Big Three, but then it's a good team. They always find another player at another position, so they're always good. But that's not my call," Dragic told Yahoo, with an uncomfortable chuckle. "I was just there to play basketball. I tried to do my job."
We experienced the lack of focus on our main goals in Devana too – which can be seen in our product moratorium posts. We've tried many things that were very far off of our core business and domain of knowledge and then we failed to master those areas and ditched those products only to try and start new unsuccessful ones.
With a lesson learned we decided to created a separate work environment called Devana Labs and moved our future product development there, where it can be mainly unaffected by the core business and have more chance of success, while not jeopardizing our main product either.
As far as experience goes, we are still learning when it is a good time to experiment and overhaul everything and when it is a good time to just tweak the process for better results and productivity.
So, let's reflect on ourselves while celebrating the 4th ManageWP birthday, and make plans for 2016. Let's end this post with yet another quote from our thought leader – Kevin Garnett: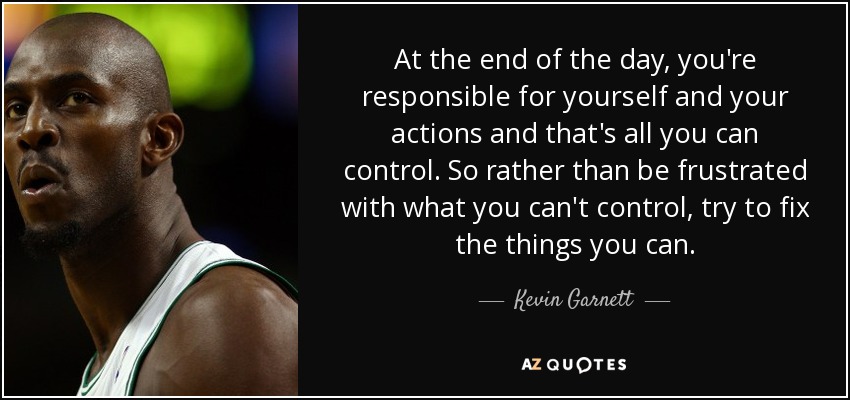 P.S. This article would not be possible without Brett Koremenos who took the time to dissect the Spurs offense and defense in his youtube video clips.