You might have read one of our previous articles about the difference between Growth Hacking and Digital Marketing. We concluded that Growth Hacking, is the next level of Digital Marketing. But also, that it's all about try-and-error tactics which should be measured. A perfect template for such a thing doesn't exist. You need to know well your industry, competitors and think out of the box.
Growth vs Product
We all have read a crazy story how Dropbox went from 100,000 to 4,000,000 users in 15 months and made a great referral hack. A lot of work hours and coding has been spent to create a stable referral platform. But even before that, the product was awesome and simple.
I like to quote Andrew Chen on this:
"Growth is a magnifying glass. If you have a tiny diamond and you put it under a magnifying glass, then you'll make something big and great. But if it's just kind of a tiny piece of shit, then it's just going to be a big piece of shit, right?"
I have had a great experience working at ManageWP, as a growth hacker. At that moment ManageWP was the biggest growing WordPress startup. One day, a simple Instagram picture of us working on a balcony prompted Lenovo to share our photo with a description and link to our website via their official Facebook and Google+ pages.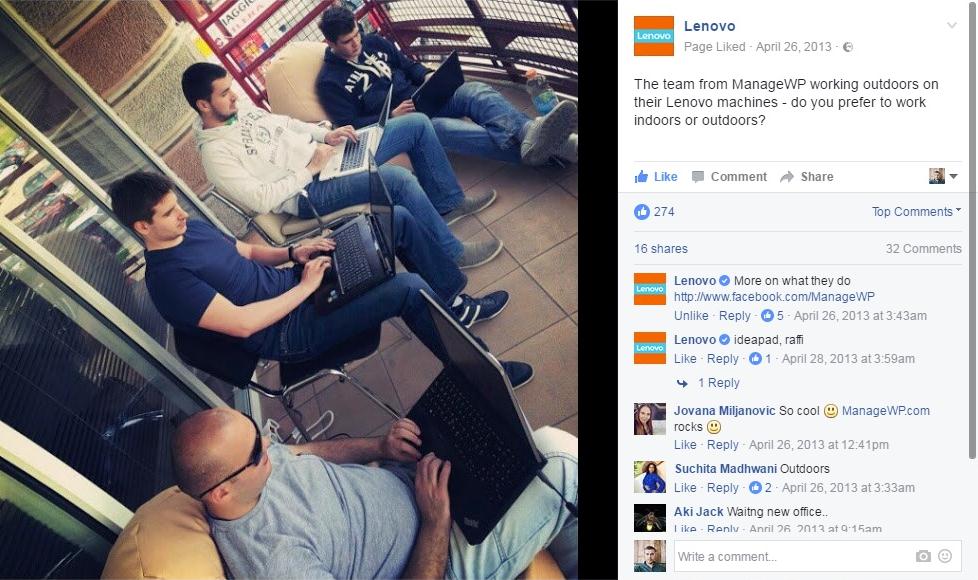 Make your product better, make your customers happier
Then capture that moment and make it shareable. A simple share button and predefined tweet after a successful action will do the magic in a long run.
To be honest, that was a pure luck. We tried-and-won. Many other times we failed. As a result, we lost a lot of money on LinkedIn, Facebook and Google AdWords. But, besides trying new channels and approaches we used to analyze our product very often. We tried to challenge customer journey, improve customer care and find out where and why we were losing customers.
Net adds is a very important KPI you'll need to track at any stage of your startup. It's a number of new subscribers – Gross adds, minus the number of customers that drop the service – Churn (you can read more about Churn rate here). Net Adds is an important metric when you need to determine the long-term viability of a company. Think of each Net Add as "X months of Future Revenue" (or cash flow), where X is calculated from the churn %. By improving conversion rate and finding new channels, you will make more Gross adds but you will increase Churn as well.
Growth vs Marketing
At the moment, I am working as a Product Marketing expert in telco industry (a company with more than 1000 employees) in the digital and multimedia team. Everything is pretty much the same except I am not dealing with SEO, SEM, SMM, etc. I write a brief to our Marketing and Corporate communications and they do their thing. Yeah, sometimes I think that I would do a better job, but that's how the corporations work.
Let's forget for a bit digital world, next-gen marketing and go back to 1950's and the definition of Marketing mix.
The 'marketing mix' (also known as the four P's) is a foundation concept in marketing. The marketing mix has been defined as the set of marketing tools that the company uses to pursue its marketing objectives in the target market. Thus the marketing mix refers to four broad levels of a marketing decision. Namely: Product, Price, Promotion, and Place.
Ok, let's go back to the present now.
In a tech startup, it's either a one-man show or, if you are happy enough, a small team that would cover 4P's. In a big company where you have more than 50 marketers on board, it's logical to have them separated in different departments like product marketing team, pricing experts, campaign experts etc.
To conclude
So, are you a Growth Hacker or Product marketing expert? Seems like it really depends on size of the business.
If you are currently looking for a job in this area, please read the job description. You probably call yourself a Growth Hacker, Product Marketing Expert, Badass Marketer, Product Hacking Ninja. But, first of all, read the job description. Be prepared however, that in a startup world you'll do every possible thing by yourself, to scale your business. I am always advising young marketers to start in small startups. It is the place where you gonna learn many different things and build yourself. After few years, you can go and do whatever part of it makes you happy or start your own agency. ?
Thank you for reading and please, share your thoughts with me in comment section below.