Preparing a list of the best European startup conferences to visit in 2017 turned out to be a real investigation work. Almost every city in Europe has a bunch of events for startups to visit. It seems like founders need to spend all year long going around Europe if they want to visit at least half of them. While it might be good if you are a tourist exploring Europe, but it may not be so good if you are a businessman. However, fear not as we will help you find the best events and guide you through all the important startup conferences at the "old continent".
Best Startup Cities in Europe
Europe is a diverse continent with many different countries but at the same time one big startup ecosystem. Cities in Europe are in a constant battle to attract more and more startup founders. Everyone wants to be on Europe's heat map these days. European startup initiative conducted a poll to find out which city offers the best opportunities for startup businesses. They've managed to interview 95% of startup founders on the continent. With the estimated total number of startups in Europe at around 3 million, this makes their poll a relevant one.
Last year several European capitals were prominent as top destinations. Can you assume which city won the title of the next big thing in the European start-up landscape? Authors of "Startup heatmap Europe 2016" asked entrepreneurs where they would build a startup in the case they would have to start all over again?
Here is the list of top 10:
Berlin,
London,
Amsterdam,
Barcelona,
Lisbon,
Dublin,
Stockholm,
Munich,
Copenhagen,
Vienna.
To have a better understanding of the list, it's important to know that around half of all respondents would go to either London or Berlin. On the lower end, we can find Athens, Birmingham, Glasgow, Bucharest, and Manchester. The most exceptional findings are the rise of Lisbon (+20 ranks), Tallinn (+17), and Warsaw (+11). In contrast, Manchester and Milan both dropped more than 15 ranks. Birmingham, Madrid, and Rome dropped more than ten ranks. And, maybe most notably, Paris dropped 11 ranks from 2nd to 13th place.
Why Should You Go to European Startup Conferences?
First of all, you need to make a schedule of startup events that are important to your business. Otherwise, traveling to a large number of conferences would be a big waste of time (professionally and personally). In a variety of similar events choose wisely which ones are suitable for you.
What are the benefits of attending these events? They will help you get noticed, expand your network, and meet prospective customers or investors. But to have a successful visit, it's always better to pre-plan meetings. Look at the list of speakers, sponsors, relevant customers and other attendants to find your target persons. This way you can expand your network of industry experts, mentors, and potential customers, but also entrepreneurship-oriented media, who can be valuable to your business as well.
Most of the startup founders are looking for funding, especially if they are in early-stage phase. Another good practice at these events is recruiting. Take a chance and get in touch with highly talented tech and business students. They will be eager to talk to you about their career opportunities.
At European startup conferences, you can step into the world of innovation. Get an exclusive environment to work on your products and ideas – coached by independent industry experts.
The most important thing is to be very selective about what events you choose to attend and not to overdo it. Think about what you and your business need the most right now.
Events Recommendations
Before I started to write this article, I wanted to ask as many people as I can for their recommendations. So, one day I set down and sent e-mails to the addresses of 20 organizers, founders, and investors. Unfortunately, the response was devastatingly poor. But I will share recommendations from those who responded to you.
The first was lovely Victoria Blechman-Pomogajko, Düsseldorf Chapter Director of Startup Grind. She is representative of the global community for entrepreneurs in 200 cities and 98 countries. The best and the most important startup event in Europe, for her, is the Pirate Summit in Cologne, Germany.
"The Pirate Summit is the most interesting and diverse Startup Conference in the Cologne Area. The audience is international, startups are pitching on a very high level, and it's very well organized. Especially the location – the so-called Odonien – gives an awesome atmosphere to the event. The Pirates Spirit is amazing and everyone is becoming part of the ARRRsome network immediately."- Victoria pointed out. And her expectations from this event are "international, selected crowd, cool startups, interested investors, interesting keynotes and cool pitches".
A startup from Italy NearIT, contextual mobile engagement platform, recommended two events as an adventure that they don't miss:
"SLUSH in Helsinki and the web summit in Lisbon.".
Europeans Love to Hang Out
While precise numbers of all European startup conferences is difficult to find, Openers, a Berlin-based communications firm, maintains a list of 237 global startup and tech events scheduled for 2017. As much as 58 percent of them are scheduled in Europe and 31 percent scheduled in North America. Surprisingly, it looks like Europeans love to hang out even more than Americans do.
Cities like London, Berlin, and Paris can lay claim to being fully formed tech ecosystems. Most secondary tech hubs need to build bridges across the continent to attract more visitors and investors.
Keeping Track of the Crowd
Although there are no precise numbers regarding all European startup conferences held yearly, we do have few interesting facts to share. Largest events, with a huge number of participants, are:
Barcelona Mobile World Congress, which attracted 108,000 attendees in February 2017. With professionals from 208 countries, the event was covered by approximately 3,500 members of the international press and media. They highlight more than 2,300 companies participated in the exhibition.
The second one is Web Summit, which decamped last year from its hometown of Dublin to Lisbon, with 60,000 attendees in November 2016. They had more than 650 speakers from 160 different states. And media coverage was pretty impressive too. Slush, the Helsinki event, ballooned to 17,500 in December last year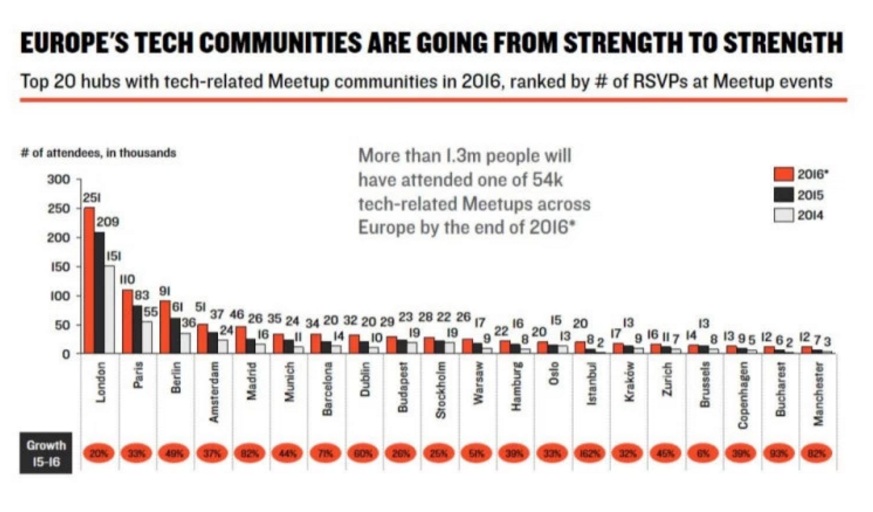 Brussels has two things that are important to the European technology community: the European Commission and Tech.eu. Tech.eu is the biggest pan-European publication that covers startups on the continent. Think of it almost as a TechCrunch for the European startup scene.
The best European startup conferences in 2017
Since we are in the middle of the year, our list of European startup conferences will focus only on the events that will take place in the second half of 2017. When making your attending plan consider one of these conferences held earlier this year, as well.
DLD17, organized in the middle of January in, Munich, Germany.
Mobile World Congress, held in Barcelona, Spain. The world's largest annual gathering of mobile industry C-Level executives took place in late February.
In March, CeBIT was held in Hannover, Germany. One of the largest global conferences that bring together entrepreneurs interested in big data, digital transformation, Internet of Things and social businesses.
Several exciting events took place in April: SeedStars Summit World in Lausanne, Switzerland and WEBit Festival, in Sofia, Bulgaria. The second one is the most influential digital & tech gathering for the markets of Central & Eastern Europe. Startup OLÉ 2017 in Salamanca, Spain, connects startups and tech/digital talent with corporates, investors, accelerators, universities and media from all over Europe.
In May you might want to consider traveling to Netherlands or Iceland. You can visit Amsterdam for The Next Web Europe Conference, a global event where business and culture collide. Or Nordic Startup Awards Grand Finale, at the end of May in Reykjavik. Maybe you can visit Tallinn, Estonia, and it's Latitude59, flagship tech conference as well.
European Startup Conferences Guide for 2017
June
The first European startup conference that is coming is Enterprise Digital SUMMIT 2017. It's a great excuse to visit Paris in June (from 17-18th) and hear more about social collaboration and digital transformation. Listen to insights and practical experiences on the future trends for the digital enterprise and how-to enable a 21st-century organization.
You can rest for a day and head on to Heureka Conference in Berlin, Germany. If you are a founder looking for a way to accelerate your company, don't miss this event.
EdTechXEurope, London from 20-21st of June, is the leading summit for executive level investors, innovators and industry influencers from European and international education companies.
July
In July, London is hosting Women Startup Competition Europe. July 1st is the final demo day of the conference when the finalists participate in the 5-days-training session and then pitch their ideas. This event is an opportunity for female entrepreneurs to meet the investors of their dreams.
In August you can rest a bit because there are no startup conferences planned for that month.

September
The Conference 2017 is a unique event where you can meet a wide range of interesting people, brain scientists, activists, marketing experts. They will cover topics like UX, psychology, ai, marketing and so on. There are three main themes of the conference: human behavior, new technology and how to make it happen. If you are interested visit Malmo, Sweden, from 4-5 September.
Europe's craziest startup conference is Pirate Summit, which will be held in Köln, Germany this year. From 6-7th September entrepreneurs can meet and link with venture capitalists and business angels. This is Europe's largest invitation-only conference for early-stage startups, investors, and corporate executives.
Os!o Innovation Week will be held in Oslo, Norway, September 24-29th. It's the largest innovation convention in Europe, making it a significant meeting place to discuss opportunities and practices for growth and innovation.
October
Especially popular event for all IT folks in Europe is IP EXPO EUROPE, held in London, of course. At the beginning of October, for two days you can hear the latest news about cybersecurity, AI, cloud and open source, networks, and infrastructures. If you are looking to find out how the latest IT innovations can drive your business forward visit IP EXPO EUROPE.
November
November starts with Web Summit a must have for everyone to visit. The largest tech and business convention in Europe will take place from 6-9th November in Lisbon, Portugal. Just read the reviews, and you'll easily decide to go to web Summit.
"Web Summit will increase your appetite, your inspiration, and your network." is one of the quotes on their website.
Hub Conference is Europe's interactive business festival for digital movers and makers. It brings disruptive trends, smart technologies, and people behind them, to Berlin. Global players and startups, CEOs and CIOs, science and politics establish networks that are shaping our digital future will be there.
At the end of November, there is one exciting conference in Helsinki, Finland. It's called Slush, and it brings together the leading actors of the global tech scene. The event has grown in just a few short years to 17,500 attendees and 1 million live stream viewers in addition to over 2,300 startups, 1,100 venture capitalists, and 600 journalists from 120 countries that are participating.
Finally, it's time to celebrate the entrepreneurial spirit and startup ecosystems of this colorful and diverse region. Central European Startup Awards 2017 is a series of events where startups from 10 countries are competing in 12 categories. Each nation will provide their national winner for each category for the Grand Finale at the end of November. Hope you'll be on the winner's list until then.
December
While the year is coming to an end, the European startup conference season is not. One more left to consider, and it's in Paris, again. LeWeb or #1 European Internet event, organized for digital innovation and internet-driven businesses.
Conclusion – startup conferences in Europe
As you can see our guide is not too long. I you want to track all European startup conferences throughout the year check out the startup calendar. Be sure to search and find events that are suitable for your business growth.
Think we've missed an interesting event? Let us know in the comments section below. Or if you want to share an interesting fact about the events you have visited, leave your feedback as well.